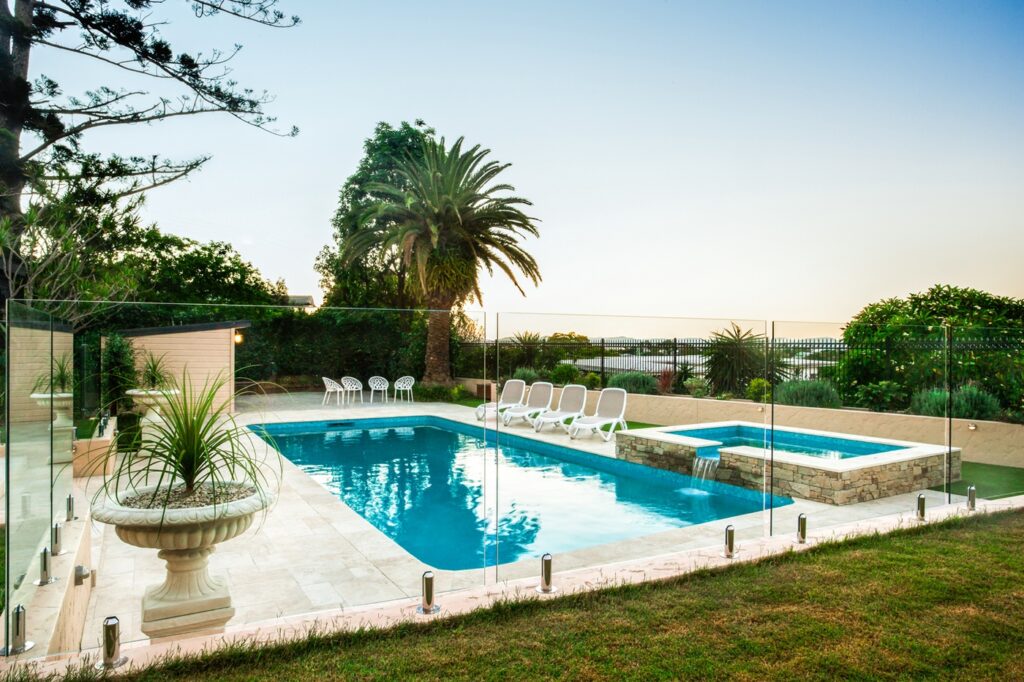 Glass Pool Surrounds
The glass pool surrounds we supply, here at The Glass Warehouse can be manufactured in toughened, laminated and tinted glass.
Swimming pool surrounds are installed to make your pool safer, and to reduce the risk of injuries. We supply the glass pool surrounds to not only separate areas for safety purposes but to enhance the overall appearance of the surroundings. As well as this, our swimming pool surrounds are perfect for providing a sense of privacy and dignity.
The glass pool fencing is designed to fulfill requirements and provide the finishing touches to your outdoor swimming pool, making it more professional and stylish. We provide all adequate fittings for the glass pool fencing making the process of installation much simpler and more convenient.
From The Glass Warehouse, why not choose from clear glass, tinted glass or low iron glass?
Call 020 8500 1188 to find out more today!
Are glass balustrades easy to maintain?

If you are opting to add glass balustrades to your pool surround, then you're in luck! Glass balustrades are low maintenance, easy to clean and offer an aesthetic extra to your pool area. Not only that, glass is long-lasting and isn't affected by wet conditions.

You can keep your glass balustrade fencing looking good as new with a simple glass cleaner and cloth – and polishing can work on any small scratches that occur to the surfaces over time.
Are glass balustrades safe to use as pool fencing?

Yes. At The Glass Warehouse we use only the highest quality of glass in our balustrade systems meaning you can benefit from durable and secure fittings for your pool fencing. Choose from either toughened or laminated glass which both offer incredibly reliable security for your family, and even select the thickness of your glass.
What are the benefits of adding a glass balustrade to your pool?

Glass balustrades can offer a wealth of benefits to your home both inside and out. When it comes to adding balustrades to your pool surround, you'd be hard pressed to find a better solution than glass balustrades.

Here are just a few of the benefits of using glass balustrades for your swimming pool fencing:

– Aesthetically pleasing
– Offers safety and security
– Creates 'zones' to your outdoor / indoor space
– Offers an unobstructed view of your pool
– Easy to clean
– Long-lasting investment
– Adheres to building regulations
What Our Customers Say
S Hampshire, United Kingdom
Very competitive prices, best I could find. Delivery was very fast for bespoke sized glass. One of my glass panels was chipped, I contacted one of the team and it was re-made and delivered within 1.5 days. Great service and coms. Thanks.
Fantastic company. I've been using these guys for around 3/4 years, not only do they complete our orders in very short notice, they delivery and exceed our expectations…9/10
Keep up the good work!!!
Excellent level of customer service, from offering advice to assist in choosing the most suitable glass to prompt helpful delivery.
M Purewal, United Kingdom
I've just replaced my wooden staircase balustrades with toughened glass. I used Express Toughening to supply the 10mm thick glass panels. The company is very professional and helpful. The project went well.
G Millett, United Kingdom
Fast quotations, fast processing and on time deliveries. Without doubt this supplier is at the top of their game.
Fast turnaround on orders. Mostly deliver, but can collect for trade customers. Every kind of glass you can imagine cut to mm accuracy by laser.