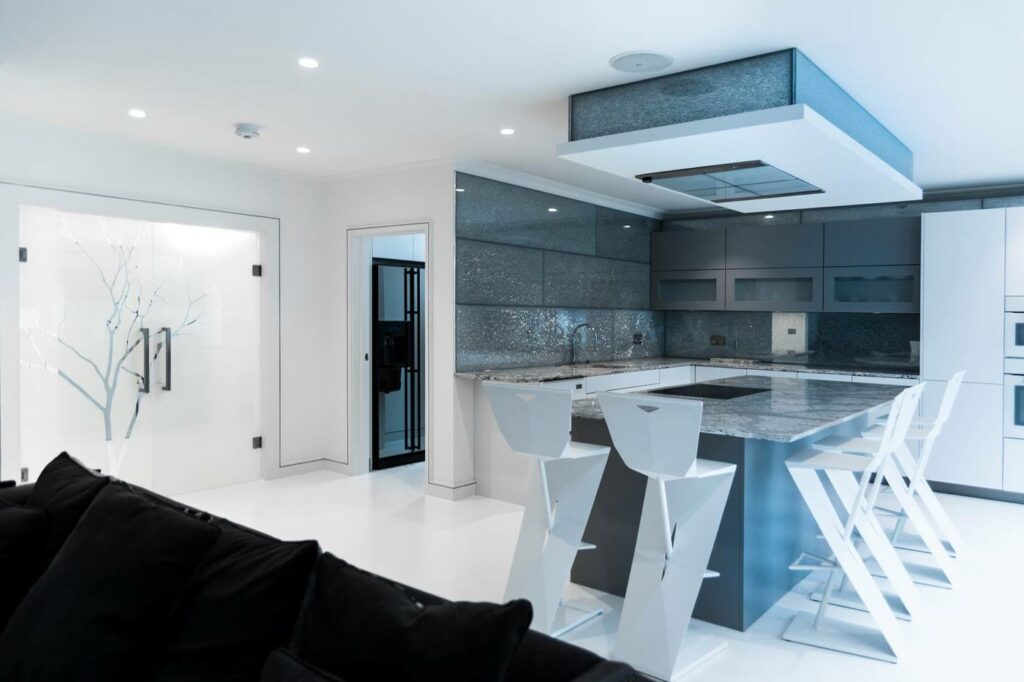 Cracked Glass Effect
Crackle glass is a modern way to enhance the style of your home. The crackle glass is made by laminating 3 pieces of toughened glass and the piece of glass in the centre is shattered to provide the "crackle" effect.
This glass is a durable glass which has various uses within the home, whether it be for glass splashbacks, worktops, cladding and other pieces of furniture. With the crackle glass, you can boost the decorative feel to your property instantly – making it more stylish and sophisticated!
Here at The Glass Warehouse, we have a complete range of crackle glass which is exactly what you need if you're looking to use your imagination and make your property more contemporary. However, the crackle glass is also manufactured to offer exceptional heat resistance and is made to last, offering resistance to various impacts.
Call us on 020 8500 1188 to find out more!
Durable, effective and heat resistant
Available in a variety of colours.
Use for worktops, splashbacks, furniture, cladding
What are the benefits of crackle glass?

When it comes to installing crackle glass, there are a number of surprising benefits you should be aware of. Not only does crackle look unique and aesthetic, but it can also offer:

Effective heat resistance
Flexibility (crackle glass can be installed almost anywhere)
Safety (crackle glass is made using multiple layers of toughened glass)
Looks modern and contemporary
Where can I use crackle glass around the home?

Crackle glass can often be seen in furniture such glass table tops, but this isn't the only application of crackle glass. In fact, this type of glass can be applied pretty much anywhere glass can be used, including just some of the following:

Glass in internal or external doors
Internal windows
Kitchen splash backs
Cladding
Kitchen worktops
How is crackle glass made?

Crackle glass is known for being highly resilient, and this is thanks to the way it is made. Using three pieces of toughened glass, crackle glass gets its effect by laminating the glass panes together before shattering the middle pane. As the panes are sandwiched together, the two outer toughened panes keep the middle shattered glass together, giving it that distinctive finished effect.

The crackle effect has a mosaic look and feel, if your home is lacking a decorative touch, the crackle glass could be exactly what you need!
What Our Customers Say
S Hampshire, United Kingdom
Very competitive prices, best I could find. Delivery was very fast for bespoke sized glass. One of my glass panels was chipped, I contacted one of the team and it was re-made and delivered within 1.5 days. Great service and coms. Thanks.
Fantastic company. I've been using these guys for around 3/4 years, not only do they complete our orders in very short notice, they delivery and exceed our expectations…9/10
Keep up the good work!!!
Excellent level of customer service, from offering advice to assist in choosing the most suitable glass to prompt helpful delivery.
M Purewal, United Kingdom
I've just replaced my wooden staircase balustrades with toughened glass. I used Express Toughening to supply the 10mm thick glass panels. The company is very professional and helpful. The project went well.
G Millett, United Kingdom
Fast quotations, fast processing and on time deliveries. Without doubt this supplier is at the top of their game.
Fast turnaround on orders. Mostly deliver, but can collect for trade customers. Every kind of glass you can imagine cut to mm accuracy by laser.